2021-02-10
NIKE AIR YEEZY 2 RED OCTOBER HISTORY
7 years ago there was a very important day in the butgroe
February 9, 2014 The iconic Nike Air Yeezy 2 Red October model has been launched, the price of which nowadays reaches sky-high amounts.
The third and last pair, which was the result of cooperation of the Nike brand with rapper / kanye West, was already sold after the "divorce" and when Yeezus was already in Adidas and began to create his next models under the sign of three stripes
The sale started exactly from midnight on the mentioned 9/02/2014 via the link provided on twitter
The saga related to the red Yeezy 2 continued, but since 2012.
After the sale of 5000 pcs of Black / Solar Red and Pure Platinum colors, once again via Twitter, a person associated with Jordan Brand Gentry Humhprey "fired" with a possible third color scheme when he received a fan request
His tweet was "things r still n the works"
After that, everyone knew that it would not end with the two versions of Yeezy 2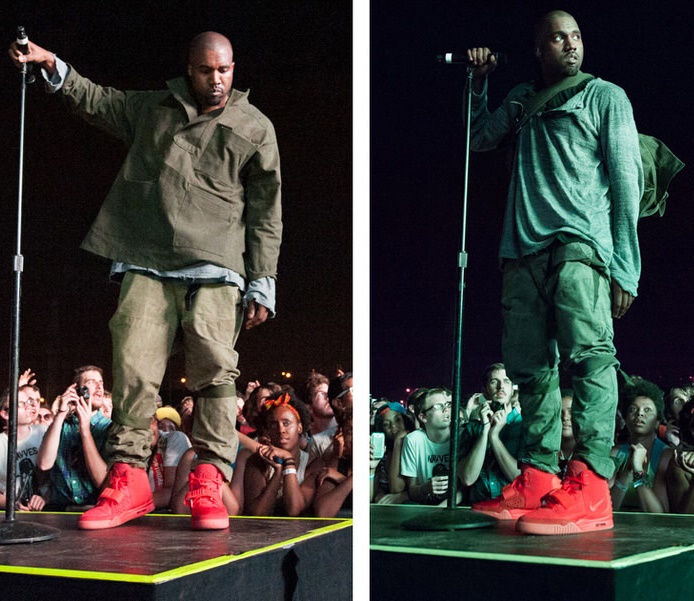 On April 5, 2013, it was already known what the third color scheme would look like. It was presented on his instagram by the well-known sneakerhead @ simon5302
The only thing that did not match the final design was the gray laces.
On May 18 (photos of Kanye West at the top of the article) Kanye first appeared in the Nike Air Yeezy 2 Red October during a concert promoting his yet infinite album Yeezus
After that, there were suggestions for the premiere that the Red Octobers will appear in June 2013. Kanye West and Kim Kardashian through their social media heated the atmosphere
On June 22, 2013, Kanye announced a contest on his website to give 50 pairs of Red October to his fans. At this point, fears began that 50 units were all production.
On August 16, the list of winners ........... but only 24!
Confusion and still nothing is known about whether we will see the official premiere and access to the purchase of Yeezy's dream
In November 2013, everyone had lost hope that the Nike Yeezy 2 Red October will go on sale. Kanyw West announced during an interview with Angie Martinez that he is moving to Adidas. Moments later, the German brand shared this information and it seemed that the topic of Yeezy in Nike was gone
After his break with Nike, not being ready with a new design for Adidas, Kanye West was seen wearing luxury brands such as Balenciaga.
Towards the end of the year, however, FootLocker included the Red Octobery on its calendar for premiere on December 27. This would make sense as Kanye's contract was due to expire at the end of the year. After a few days, however, the information disappeared and 2013 closed without the Yeezy model
When everyone had given up hope, the aforementioned February 9, 2014 arrived and on Twitter:
The Nike Air Yeezy 2 is now available
As you can guess a moment later, there was nothing to collect. Out of Stock